History
All Saints' Church, Pytchley is a grade 1 listed building, the earliest parts of which date from the 12th century, with later 13th and 14th century alterations. The church was extensively restored in the 19th century. In 1842 an older cemetery was found under the Norman arcade comprising of cists associated with late Roman pottery and coins; this in turn lay beneath burials of possible Saxon date. The tower is of sandstone construction and dates from the 13th/14th centuries. An increase in height in c1427 caused a weakening of the tower, which was subsequently strengthened in 1837 using iron banding.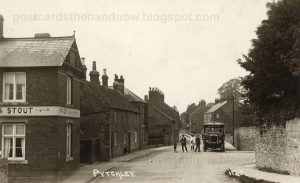 Pytchley, Northamptonshire in 1920. The bus is a number 7 to Wellingborough. It has solid rubber tyres
The church is relatively large – 940 sq metres- and appears spacious as the pews were removed in 1973 because of beetle infestation and chairs are now used as seating. This makes the building ideal not just for services but also for exhibitions, concerts, fetes and the Benefice Summer Holiday club etc. There is regular seating for about 150 people but space to accommodate double that number with additional portable seats.
In 2011 the  Tower Project – automatic clock winding, WC/ utilities and easier access to the Bell ringing chamber, clock and roof was completed.
The project was dedicated by The Right Reverend John Holbrook, Bishop of Brixworth, October 2012.
---
If you have any interesting history of the village such as maps, photo's or information and would like to submit them to this page, email them to [email protected]