St Mary the Virgin's Church – Little Harrowden
Little Harrowden is a beautiful countryside village situated between Wellingborough and Kettering and is one of the longest and narrowest parishes in Northamptonshire. It is built around the Church of St Mary the Virgin, which dates back to 1190.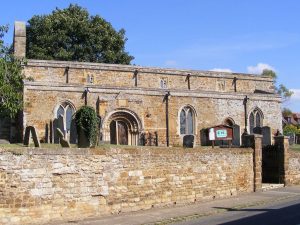 Sunday Services
Holy Communion Services held at 9.00am.
Family Services held at 10.00am.
5 Churches Together services are held on the 3rd Sunday of the month on a rota basis and are at 10.30am.
When there is a 5th Sunday in the month we will be running "Café Main Street" at 10.00am which is a new style of service that we are trialing to be family friendly and  to include good coffee, breakfast and fellowship.  Everyone welcome.  Otherwise there will be a communion service at one of the other churches.
Baptisms non communion services unless requested : 9:00am or 3:00 pm. Time to to be arranged with parents.
Evensong.  Book of Common Prayer sung evensong on the 3rd Sunday of each month at 5.00pm.
Sunday School continues on the fourth Sunday of the month in Church.  The Sunday School leaders carry out an activity with the children which they can show at the end of the service.  Sunday School is aimed at school-age children, however pre-school children can attend accompanied by their parents.
Sunday Jesus and Me (J.A.M)  Held on the 3rd Sunday of the month at 3-4.30pm in church for children and their adults.  For more information ring Carolynne on 01933 673492.
All forthcoming services can be found under the Benefice Services tab.
Coffee/tea etc. are served after the Holy Communion and Family Services at the back of church giving people a chance to chat with others.  If you would like to be on the coffee rota there is a list you can fill in at the back of Church.
Weekday Services
Holy Communion is held in the week on a Wednesday morning at 9.15am.
Morning Prayer, 9.15am Tuesday, Thursday & Friday mornings.
Little Fishes is a service for preschool children with their adults on Monday Mornings from 9.30am to 10.45am in term time.  All preschool children are welcome for a bible story, songs and prayers, craft activities, toys and refreshments as well as a chance to chat to other carers.