History
The present building was erected in 1843 on the site of a medieval church. The original structure had deteriorated so much, it was demolished and rebuilt in the Decorated style. This provided the opportunity to add a north transept and vestry. The old church had a steeple at its west end, but the new one has an impressive tower containing a belfry at its centre. The total re-building cost was £4,500, of which £1,200 was donated by a Mr A A Young, who lived in Orlingbury Hall, opposite the Church. The Young Chapel is named after his family.
The tall tower, a local landmark, was surmounted by a parapet and pinnacles.  However, in 1971 these were judged unsafe and were lowered by 10 feet to 90 feet. Parts of the removed stone work can be seen in several gardens around the village.
The tower clock was given by villagers to commemorate Queen Victoria's Diamond Jubilee. In 2006, villagers paid to have the clock restored and the mechanism powered by electricity.
The belfry, which is reached by a spiral staircase accessed from the churchyard, contains six well-maintained bells.  These are rung to announce services as well as to celebrate weddings and other occasions for rejoicing.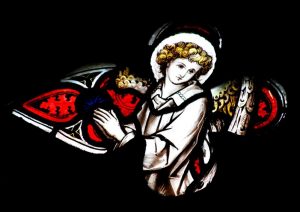 There is a beautiful Rose window behind the altar which shows Saint Peter at the top and Mary at the bottom with the Gospel writers Matthew, Mark, Luke and John looking on.  In a recess in the sanctuary there is an alabaster effigy of a knight inscribed "I H C Nazareni".He is reputed to be Jock of Badsaddle, a deserted village west of Orlingbury, who is said to have killed the last wolf (or boar) in England.
---
If you have any interesting history of the village such as maps, photo's or information and would like to submit them to this page, email them to [email protected]