NEWS IN THE PEWS
SERVICES THIS WEEK:   Sunday 22nd July 2018 8 after Trinity GREEN
9:00am Holy Communion at Isham (The Rector)
9:00am Morning Worship & Sunday School at Little Harrowden (C. Adam)
11:00am  Celtic Holy Communion at Great Harrowden  (The Rector)
11:00am Café Church at Orlingbury (Gillian Walton)
No Service at Pytchley – to join others
SERVICES NEXT WEEK Sunday 29th July 2018  9  after Trinity GREEN
9:00am Holy Communion at Isham (The Rector)
10:30am Café Church at Little Harrowden (Carolynne Adam)
11:00am  Holy Communion at Pytchley  (The Rector)
 4:00pm Sung Evensong at Orlingbury (Gillian Walton)
No Service at Great Harrowden – to join others
Weekday Services
9:30am – 10:45am (term time) Mon Little Fishes carer and tots group at Little Harrowden.
9:15 am Tuesday, Thursday and Friday, Morning Prayer at Little Harrowden.
9.15 am Wednesday, Holy Communion at Little Harrowden.
Please forward any items for inclusion in this news sheet to
[email protected] Tuesday evening each week.
Collect                                                                            
Lord God, your Son left the riches of heaven and became poor for our sake: when we prosper save us from pride, when we are needy save us from despair, that we may trust in you alone; through Jesus Christ our Lord. Amen
Old Testament Reading    Jeremiah 23:1-8(NIV)
23 "Woe to the shepherds who are destroying and scattering the sheep of my pasture!" declares the Lord.2 Therefore this is what the Lord, the God of Israel, says to the shepherds who tend my people: "Because you have scattered my flock and driven them away and have not bestowed care on them, I will bestow punishment on you for the evil you have done," declares the Lord.3 "I myself will gather the remnant of my flock out of all the countries where I have driven them and will bring them back to their pasture, where they will be fruitful and increase in number.4 I will place shepherds over them who will tend them, and they will no longer be afraid or terrified, nor will any be missing," declares the Lord.
5 "The days are coming," declares the Lord,
"when I will raise up for David[a]a righteous Branch,
a King who will reign wisely
and do what is just and right in the land.
6 In his days Judah will be saved
and Israel will live in safety.
This is the name by which he will be called:
The LordOur Righteous Savior.
7 "So then, the days are coming," declares the Lord, "when people will no longer say, 'As surely as the Lordlives, who brought the Israelites up out of Egypt,'8 but they will say, 'As surely as the Lordlives, who brought the descendants of Israel up out of the land of the north and out of all the countries where he had banished them.' Then they will live in their own land."
New Testament Reading     Ephesians 2:11-22(NIV)
11 Therefore, remember that formerly you who are Gentiles by birth and called "uncircumcised" by those who call themselves "the circumcision" (which is done in the body by human hands) —12 remember that at that time you were separate from Christ, excluded from citizenship in Israel and foreigners to the covenants of the promise, without hope and without God in the world.13 But now in Christ Jesus you who once were far away have been brought near by the blood of Christ.
14 For he himself is our peace, who has made the two groups one and has destroyed the barrier, the dividing wall of hostility,15 by setting aside in his flesh the law with its commands and regulations. His purpose was to create in himself one new humanity out of the two, thus making peace,16 and in one body to reconcile both of them to God through the cross, by which he put to death their hostility.17 He came and preached peace to you who were far away and peace to those who were near.18 For through him we both have access to the Father by one Spirit.
19 Consequently, you are no longer foreigners and strangers, but fellow citizens with God's people and also members of his household,20 built on the foundation of the apostles and prophets, with Christ Jesus himself as the chief cornerstone.21 In him the whole building is joined together and rises to become a holy temple in the Lord.22 And in him you too are being built together to become a dwelling in which God lives by his Spirit.
Gospel Reading     Mark 6:30-34, 53-56
30 The apostles gathered around Jesus and reported to him all they had done and taught.31 Then, because so many people were coming and going that they did not even have a chance to eat, he said to them, "Come with me by yourselves to a quiet place and get some rest."
32 So they went away by themselves in a boat to a solitary place.33 But many who saw them leaving recognized them and ran on foot from all the towns and got there ahead of them.34 When Jesus landed and saw a large crowd, he had compassion on them, because they were like sheep without a shepherd. So he began teaching them many things.
53 When they had crossed over, they landed at Gennesaret and anchored there.54 As soon as they got out of the boat, people recognised Jesus.55 They ran throughout that whole region and carried the sick on mats to wherever they heard he was.56 And wherever he went—into villages, towns or countryside—they placed the sick in the marketplaces. They begged him to let them touch even the edge of his cloak, and all who touched it were healed.
Notices:                                                                             
Would you like to be confirmed?Preparation groups, for young people and adults will be taking place soon as well as preparation for youngsters to take communion before confirmation. Please place your name on the forms at the back of church and return ASAP to Reverend Toni or church wardens.
5 Churches Holiday Club begins tomorrow, Monday 23rdJuly at Pytchley Church and will take place every day next week from 10am to 12 noon ending with a short celebration service and picnic on Friday.
Thank you for all the support for Little Fishesand for our wonderful team of volunteers. We return on Sept 3rd.This is a training day but older siblings are very welcome. Do come to the Little Fishes coffee and chats on August 13th and in aid of Macmillan nurses.
Eucharistic training – is anyone in the benefice interested in having training? Revd Toni is happy to train anyone interested on a Saturday morning. 
Please pray:
For Frank Stanley (Pytchley), Janet Johnson and the family and friends of Cliff Payne whose funeral took place at Pytchley Church on Friday.
Please pray for all those who are undergoing new treatment, that God will give them the strength and peace to get through it.
   'Unless the Lordbuilds the house, those who build it labour in vain.'                                                                                                           Psalm 127.Vs.1
Reverend Toni's summer break is from Tues 14thAug until Tues 28thAug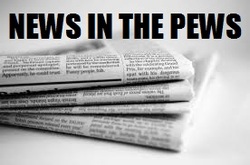 ST MARY'S, LITTLE HARROWDEN
ALL SAINTS, GREAT HARROWDEN
ST MARY'S, ORLINGBURY
ALL SAINTS, PYTCHLEY
ST PETER'S, ISHAM
Church Website:  www.5churches.co.uk
NIP online: https://5churches.co.uk/newsletter/