Neil Lyon will give the Sir Peter Crane Memorial Lecture
March 17 @ 11:00 am

-

5:00 pm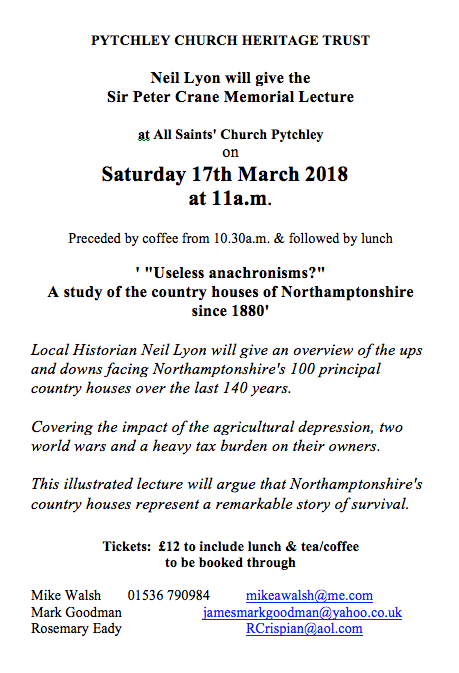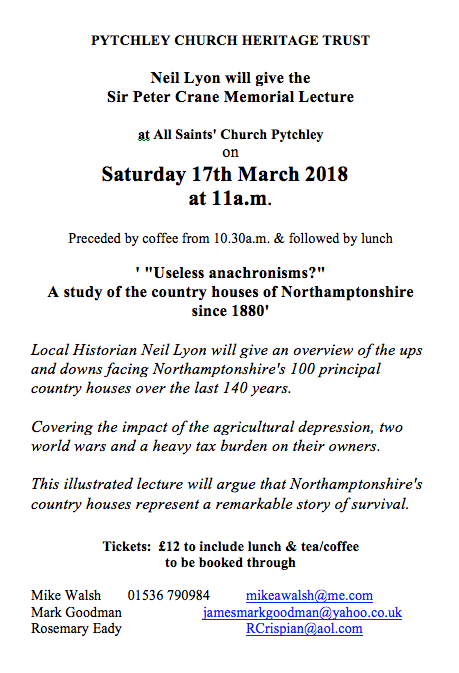 PYTCHLEY CHURCH HERITAGE TRUST
Neil Lyon will give the
Sir Peter Crane Memorial Lecture
at All Saints' Church Pytchley
on
Saturday 17th March 2018 
at 11a.m.
Preceded by coffee from 10.30a.m. & followed by lunch
' "Useless anachronisms?"
A study of the country houses of Northamptonshire since 1880′
Local Historian Neil Lyon will give an overview of the ups and downs facing Northamptonshire's 100 principal country houses over the last 140 years.
Covering the impact of the agricultural depression, two world wars and a heavy tax burden on their owners.
This illustrated lecture will argue that Northamptonshire's country houses represent a remarkable story of survival.
Tickets: £12 to include lunch & tea/coffee
to be booked through
Mike Walsh       01536 790984
Mark Goodman
Rosemary Eady